LEAD

Lead sheet has long been regarded as a reliable barrier against primary and secondary sources of radiation in healthcare and nuclear power generation environments. In keeping with international guidelines governing standards for acceptable protective materials Royston Lead Limited has specialised in the provision of shielding including chevrons, lead-lined gypsum-fiber wall boards, sheet and bespoke assemblies for over three decades.
Recent innovations include: Lead-lined fiber boards which greatly increase speed of installation and obviate the need for use of materials such as plaster board, plywood or MDF; a variety of chevron forms, allowing the client to use bulk manufactured materials for in-fill work whilst also being able to select fully engineered products where surface finish is important; one-stop shop capabilities to allow the client to procure the entire system under one contract and bespoke services to allow integrated support from the specialist physicists to fabrication and installation.
We offer the widest range of products in standard size or bespoke thickness from 0.5mm to 200mm thickness in a single sheet. We are happy to provide a single roll although we often addresses contracts in excess of one thousand tonnes.
Similarly, as alloys are manufactured in Group, if specific contaminants are of concern, please feel free to speak to us to select a lead that suits your needs.  We are also able to produce components to the widest array of standards, including legacy USA, European and Eastern Bloc designs to suit legacy installations.
About Radiation Shielding
Lead is a stable element with a high atomic number, it forms in a dense crystalline structure with a high electron density and is particularly suited to dissipating both x-ray and gamma radiation. It has a relatively low melting point which allows it to be shaped easily and whilst in its pure form lead is soft and prone to creep it can be alloyed with antimony to produce clean creep resistant finish.
Radiation exposure can cause damage to any material, for example cell damage and mutations in animals and humans. Silicon chips in complex computer systems or CCTV cameras can be especially susceptible and even Lead itself will degrade under extreme fields after an extended exposure time. Shielding can be used to mitigate such damage and protect a wide variety of biological or inorganic materials. Lead is used in hospital x-ray facilities to protect radiographers and patients from excessive or unwanted exposure, in NDT facilities to shield x-ray sources used in weld inspection as well as in nuclear power plants and reprocessing facilities to protect personnel and equipment.
It can be found in treatment room walls, mobile and static shielding screens, protective clothing and isotope storage flasks as well as a variety of heavy industrial applications. It can be poured into a vessel or used in isolation, it can be machined, cast, rolled or extruded. It can be painted or coated, is insoluble and resistant to a variety of chemicals.
Royston Lead provides a comprehensive range of products to the healthcare and nuclear shielding sector and assists in the design, production and testing of purpose-built research, storage and testing facilities. Our experience in the design, manufacture and installation of lead-lined boards, bricks and vessels ensures that they are fully durable and will fulfil their intended design life. Whilst our manufacturing facility is able to manage assemblies weighing 20 tonnes or more.
Forms of Lead Used for Radiation Shielding
Lead chevrons
Lead bricks
Lead sheet
Lead wool – for filling deep cracks in a radiation barrier
Lead-lined board / lead-clad pipes – to shield radioactive and corrosive liquids
Lead powder & shot – dispersed in rubber or plastic or mixed with concrete and cement
Lead filling
Bespoke Assemblies
Radioactive materials in laboratories and hospitals are usually handled by remote control from a position of safety behind a wall of lead bricks while X-ray machines are normally installed in rooms lined with lead sheet. Lead compounds are also a constituent of the glass used in shielding partitions (to permit safe viewing) and lead powder is incorporated into plastic and rubber sheeting as a material in protective clothing.
Royston Lead manufactures material of the highest purity to protect patients, staff and medical equipment as well as to encapsulate vessels and pipes containing hazardous and corrosive substances.
Factors such as the required level of attenuation, material thickness, weight and structural implications must be considered. Other metals can provide protection but lead has long been considered the most effective, practical (in terms of space utilisation) and cost-effective. With more than 90 years' experience of lead manufacturing, Royston Lead has the expertise, personnel and machinery to provide the right solution no matter what the environment.
Lead Sheet & Boards
Lead Sheet & Plate
Royston and its related Group Company's produces circa 30,000 tonnes per year of lead sheet in BS EN 12588, BBA Accredited DM Cast, Sand Cast or Plate form per year. The product range starts at 0.5mm thicknesses and concludes at bespoke plates up to 200mm thick in a wide variety of alloys (99.985, BSEN, DM, 4%Sb) to suit specific customer needs.
Whether you require one roll, one load or one hundred tonnes we are able to provide competitive pricing with significant quantities of material supplied from stock.
Uses of Lead-lined Boards
In addition to X-ray rooms in hospitals, clinics and dental surgeries; lead plays a key role in a wide variety of shielding applications. These include research facilities (nuclear, medicine, and energy), the nuclear power sector (generations and waste management), veterinary practices, mobile screening units, industry (Non Destructive Testing, food sterilization, waste treatments), off-site modular / pod manufacture and acoustic damping.
RLL gypsum-fibre boards offer greater design flexibility and ease of installation in these environments, many of which are built within extremely tight construction schedules. For design and build projects of such a nature, fiberboards provide the means by which to save critical installation time and reduce risks associated with water damage or fire damage due to the inherent stability of the materials used.
Lead Specifications
Whilst the Group is able to produce DM Cast Lead in accordance with its BBA accreditation, RLL prefers to manufacture its board products using rolled lead sheet manufactured in the UK to BS EN 12588:2006, in accordance with British Standard and European Norms for the construction industry. This is due to the inherent nature of DM Cast Lead, which is manufactured using a freezing process resulting in a product that varies in thickness across its width as illustrated by its speckled finish. BS EN lead is rolled and uniform in thickness and due to its wide use in the UK market is some of the highest standard sheet in the world with such consistently high quality that it is guaranteed for up to 50 years. As a Group with a secondary smelter, rolling mills and board presses RLL can provide a full chain of custody for the lead used in its products. We are also able to offer a buy back facility to recover old lead products if appropriate.
Stock is held in thicknesses from 0.8mm – 5mm and sizes of up to 1200 x 600mm to accommodate any specification at short notice. Bespoke thicknesses of 5 – 200mm can also be made to special order although thicker materials require structural steel support substrates
Boards
RLL can produce lead lined boards with a variety of substrates, plywood, plasterboard, fiberboard and sheet steel being typical examples. Fiberboards homogenous substrate, made using only recycled gypsum, cellulose fibers from post-consumer waste paper and water is a preferred example as the boards do not contain added chemicals and offer the highest standard of durability and sustainability.  The fibers provide a high standard of resilience and acoustic insulation as well as making them suitable for installations requiring fire protection or moisture resistance.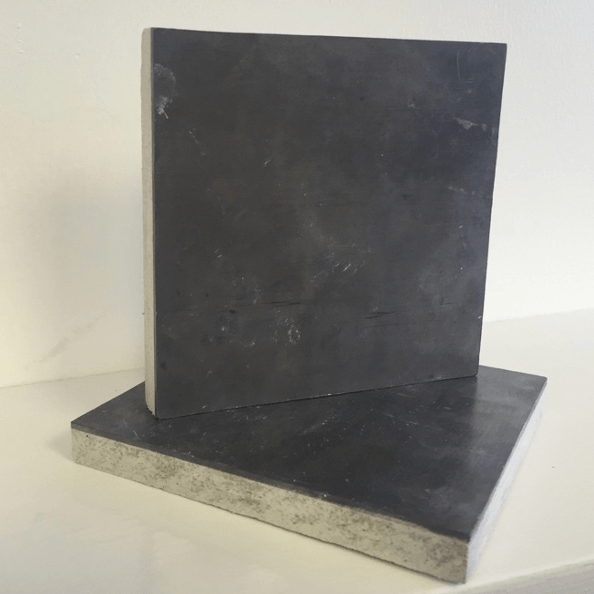 Fiberboards outperform traditional dry-lining where multiple layers and separated studs are invariably required to achieve a similar level of performance. Square and tapered edge boards are available and can receive a traditional plaster skim, taping or feather edging.
Boards can be produced in a wide variety of form factors dependent upon the application, area to be covered and access routes to the workface, although standard products typically utilize 4, 6, 9, 12, 15 18 or 25mm boards in plywood, 12.5 or 15mm boards in fiberboard or plasterboard in 600mm widths and lengths up to 2.4m.
Laminate adhesive
Lead up to 5mm is bonded to boards using a high performance, single pack, heat-curing polyurethane adhesive. This has been formulated specifically for sandwich constructions, typically those with an outer layer of metal and a core material such as gypsum board. The adhesive is non-combustible, spray or sheet applied and a minimum bonding pressure of 200gm/cm2 (2.8psi) is employed to guarantee effective overall bonding.
Board Sustainability
Rolled lead sheet has been awarded a UK BRE Green Guide A+ and A rating for sustainability due to the strict requirements of the appropriate British Standard. Lead can be fully recycled on completion of the installations useful life.
Depending upon the specification, boards are totally inert, made almost exclusively from recycled materials presenting no hazard to the environment when they are ultimately disposed of.
Room Design Considerations
The specification for an X-ray room and the immediate environment leading to and from it will be determined by a specialist radiation protection advisor. However, there are certain typical designs, which include:
Protective cubicles for staff and those opening out onto X-Ray rooms should be lined with lead of 1.5mm thickness or greater
Doors should be lined with lead of 2mm thickness or greater
Shield materials should be lap jointed with due consideration taken at interface points between walls, doors and windows. The thickness of lead is also affected by facility workload, occupancy ratios and proximity of rooms in which other radiation equipment is situated.
Lead Components & Assemblies
Lead Chevrons & Bricks
Lead Bricks are widely used in various applications including ballast for shipping and sub-sea cables, counterbalance weights and radiation shielding. Depending upon the application the specifications for shape and size vary. Large ballast blocks may be sized to meet the requirements of the available lifting equipment with chamfered corners to minimise snagging, whilst radiation shielding is typically sharp edged and smooth of finish to ensure a tight build, minimising the creation of shine paths, and reducing contamination traps.
In radiation shielding the brick size is typically selected after consideration of installation method, lifting equipment and, where applicable, with reference to manual handling guidelines and prevailing customer and regulatory requirements.
Bricks are produced from pure lead where cost is the key driver, or as an alloy with 4% Antimony additive were a harder, damage resistant brick is required.
A typical specification is 4% Antimonial Lead Alloy in a 8" x 4" x 2"/ 200 x 100 x 50mm  (+/- 0.5mm) chevron brick form. The brick shall be sharp of edge and corner, smooth of surface and free from indentations, cracks or defects.
All chevrons are manufactured to interlock cleanly preventing shine paths. Cast arrangements are particularly useful for bulk shielding applications whilst extrusions and machined variants are better for complex geometries and a clean and easily decontaminated surface finish.
Chevron Finish
Chevrons up to 40 x 100mm may be extruded, cast or milled; beyond 50mm cast or milled products apply dependent upon the application.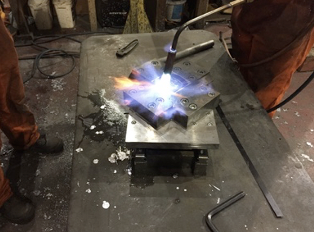 Cast chevrons are usually utilized as bulk shielding material, either in 'as cast' form where surface finish is not of concern or in machine finished form where a clean and regular face is required to the resultant wall. The resultant chevrons are the cheapest form of product designed for manual handling and wall construction and are in, many cases, sufficient for applications including bunkers and localized temporary erections.
Extruded chevrons are created using a 500 tonnes extrusion press and are completely regular in appearance. The manufacturing process inherently compresses the lead into the required shape under force and therefore results in a product that is inherently free from defects.
.
Dimensions of chevrons are limited by the size of the press die and as a result they tend to be in thinner sections, as a result they are often produced in longer lengths or rails to achieve a component weight just inside the desired manual handling limit. The production process is more complicated than cast chevrons and as a result the product range is more expensive, however, the resultant surface finish and ease of assembly make them a common form of product where cast solutions are inappropriate. Due to process dynamics, chevron rails are not suitable where high contents of Antimony (over 4% Sb) are required.
.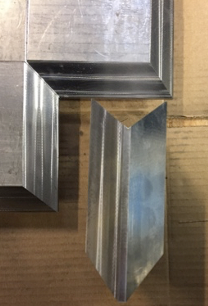 Rolling a thick billet of lead to the desired width, cutting oversize and machining to finish produces milled & machined chevrons. This product is the most flexible in terms of achievable form factors and bespoke finishes, is homogenous and porosity free as a result of rolling reductions and may be produced in thicknesses up to 150 – 200mm with multiple chevrons (V, W, VW…) if required for stability. However the complexity of the manufacturing process makes them less appropriate in applications where large quantities of cheap bulk shielding are required.
.
Chevron Standard Forms
Typical form factors include BS 4513 specification V50 & V100 series square cut and R50, R100, R150, R200 or R250 series round cut form factors although a wide variety of current, historic, local and international standards, including legacy Eastern Bloc types, are supported in addition to bespoke or client specific forms.
Lead Bricks & Pipes
Some applications do not require chevrons to protect from the inadvertent creation of shine paths. This may be where walls are made up of multiple offset layers or where brick interfaces can be aligned to avoid coincidence with the radiation path. In such cases lead bricks may be used. Bricks are available in a variety of sizes and are typically cast, extruded or saw cut from milled sheet.
Lead pipe work is typically produced to provide contoured over cladding to existing piping installations. Depending upon the sizes, shapes and features required pipe work can either be self-supporting or encapsulated with structural members.
Lead Shot
Leads density can be used to increase the density of bulk construction materials. Two standard forms of lead can be used in this instance: lead powder and lead shot. Lead powder is uncommon and no longer recommended. Whilst it can easily form a homogenous mix with the parent material, the mobile nature of dry lead powder requires careful consideration of the health and safety arrangements until the media becomes fixed as a result it is not considered useful in the majority of applications outside of bespoke production facilities.
Lead shot is often a realistic compromise in such situations allowing a reasonable degree of homogeneity whilst minimising the risk of inhalation during the mixing process. Shot is readily available in sizes from 1mm upwards and through careful selection of geometries, can be used to produce densities significantly in excess of standard concrete whilst being able to be cast in much the same way.
Lead Filling
Lead filling is a technique used to provide installed fixed shielding to flasks, gamma gates, containers and structural assemblies. Royston is able to provide a filling service to third party manufacturers of steelwork, or if required by the client or designer, provide the complete service including manufacture of the assembly to be filled as well as providing the fill itself.
We are able to handle assemblies, which are physically large (size and weight) and have experience in assemblies in excess of 20 tonnes, alternatively if appropriate we are able to undertake on-site filling. Post filling services including scintillation testing can also be arranged.
For novel applications or where the constraints on lead filling are not well understood by the client, we are able to offer an advisory service to ensure that designs consider the fill process and limitations thereof. This approach can be useful in minimising the potential for voids in the finished assembly.
Bespoke Assemblies
Royston provides a wide variety of services including filling, casting, milling, machining extruding, burning and welding. Additionally we have experience in working with suitably qualified and experienced personnel in the design, manufacture, assembly and testing of complex and bespoke assemblies. Whether you require just one step in the process or a turnkey service we are more than happy to help.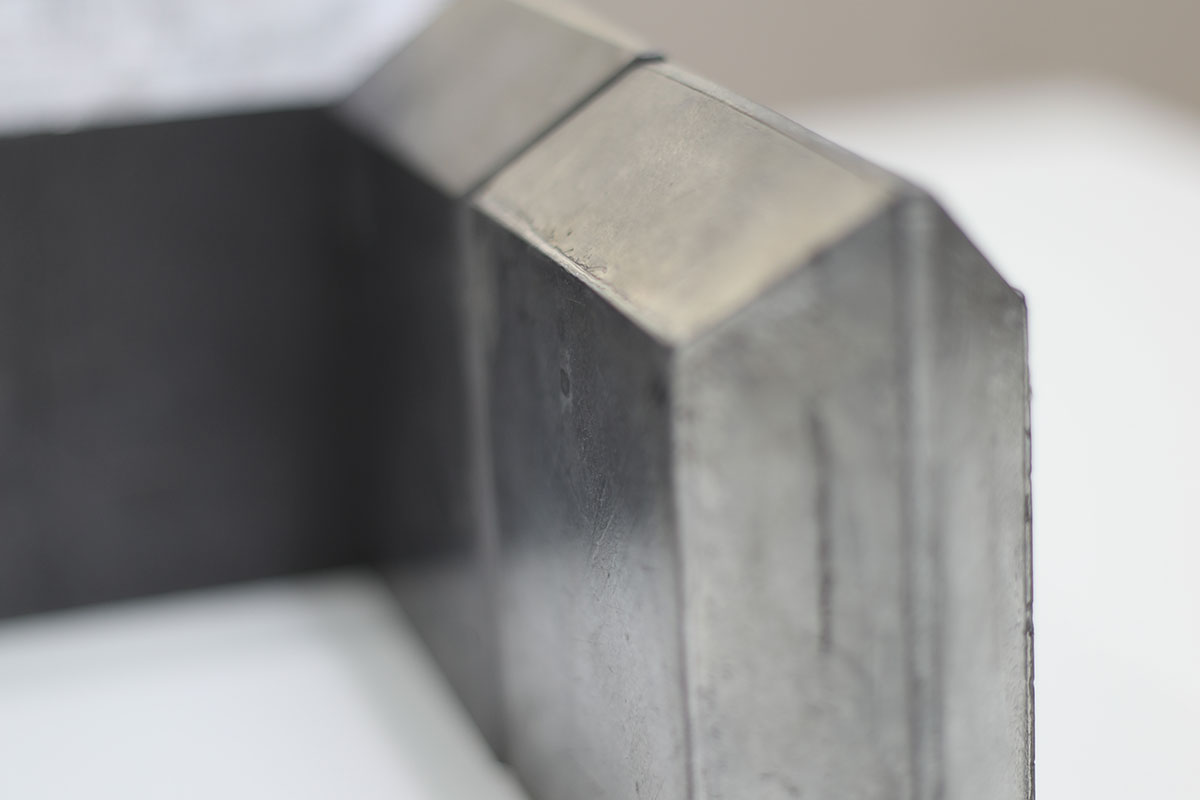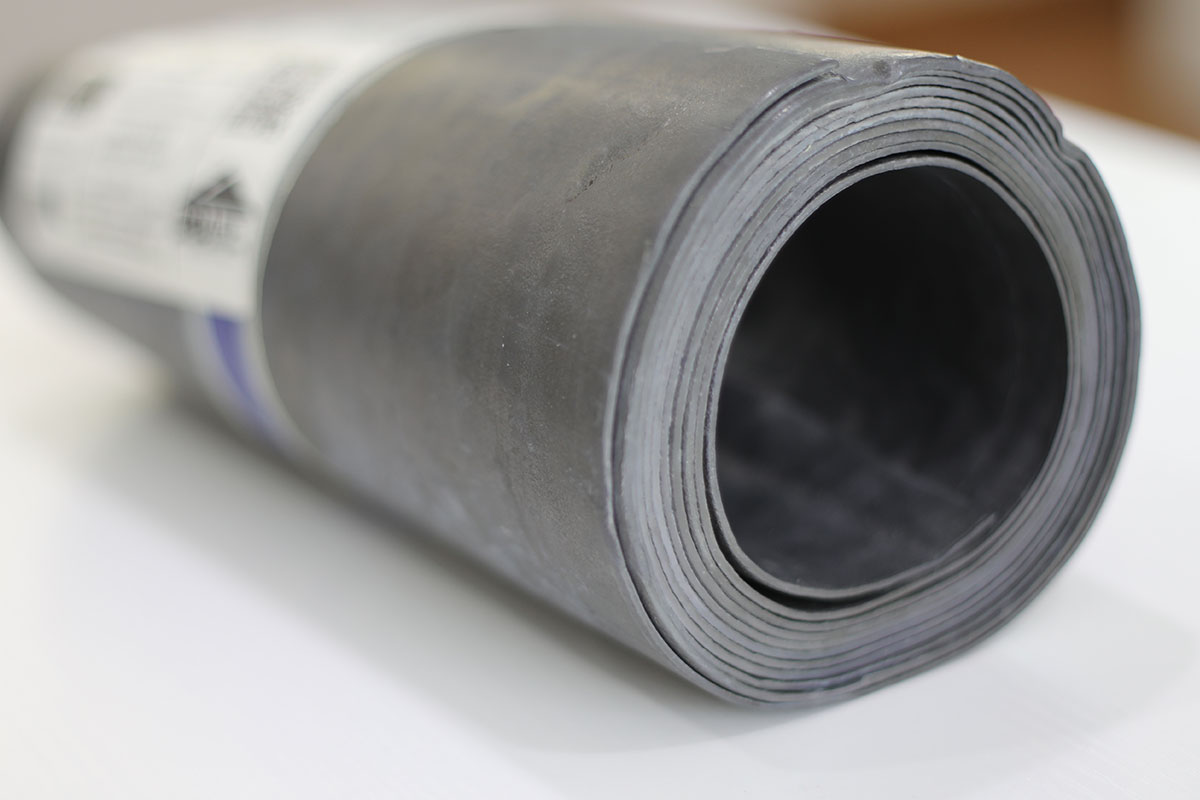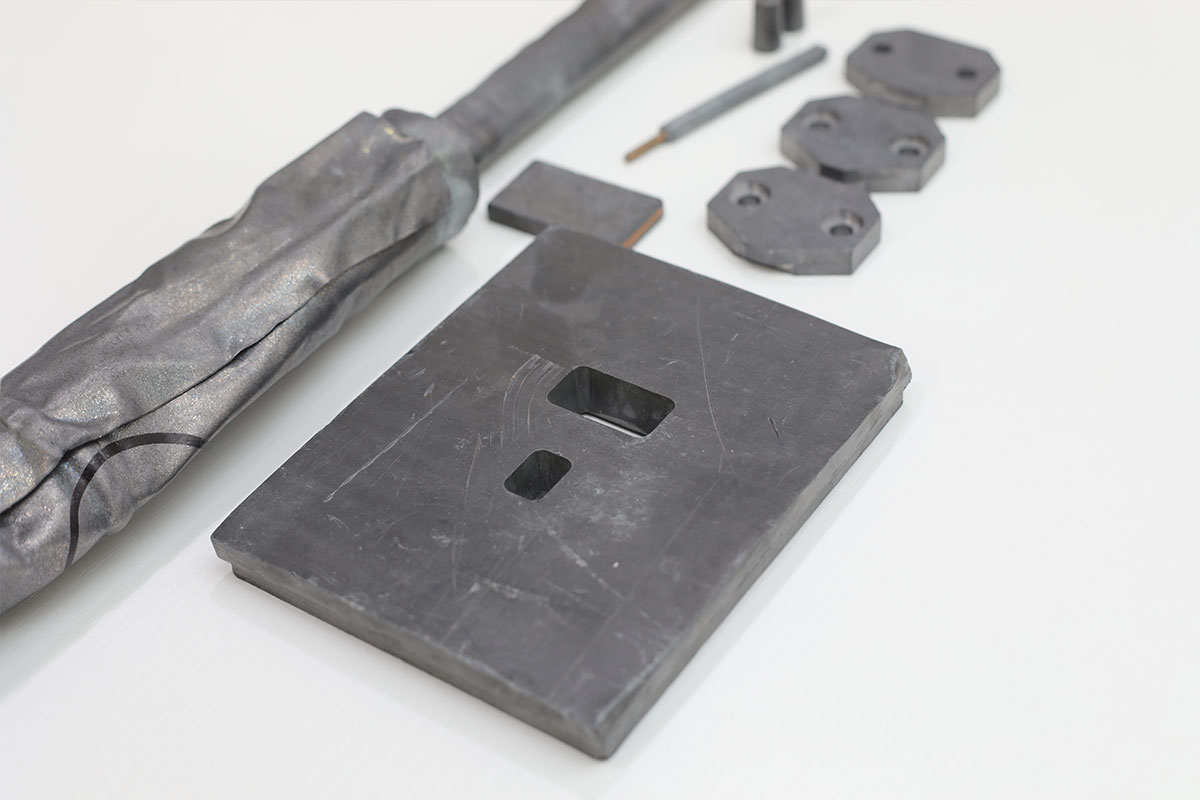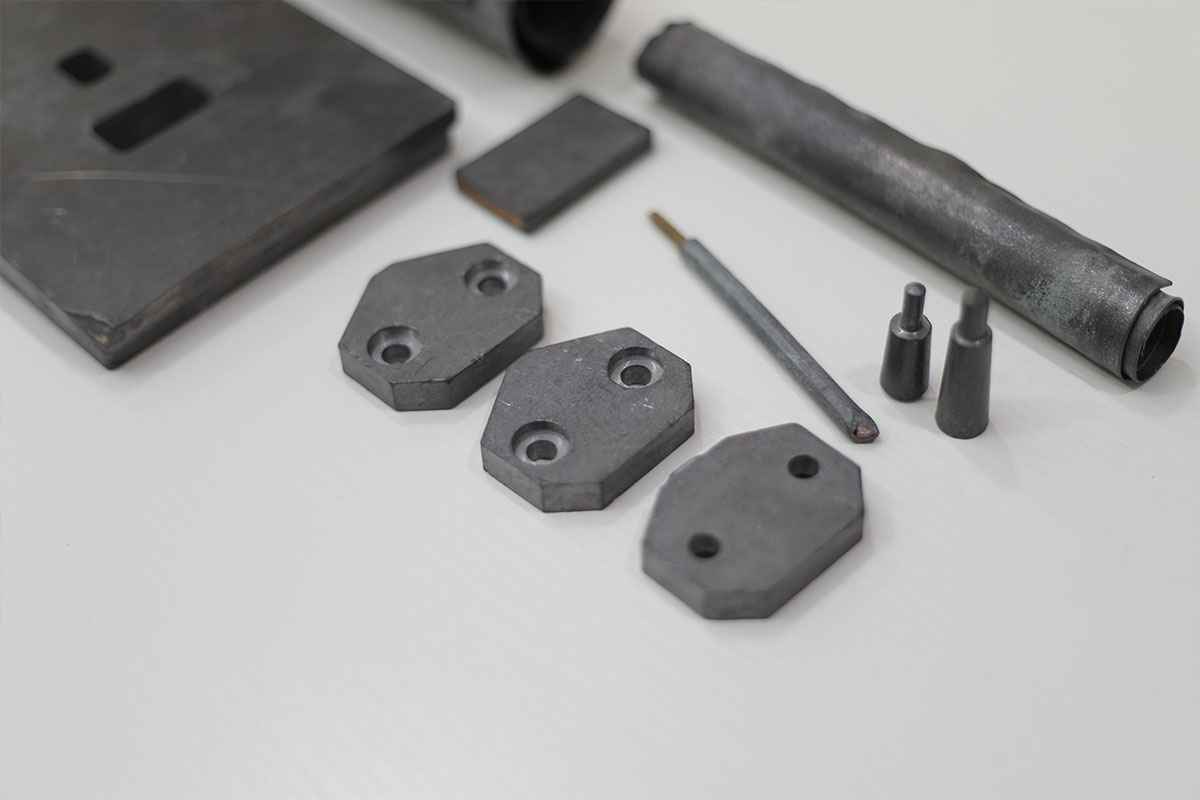 Services
Supply, installation and safety
RLL bricks, sheet, boards and chevrons provide staff and patient safety, guaranteed quality and lead density. We work with architects and radiation equipment specialists to ensure that the material used and the design specification is both appropriate and cost-effective. We are also able to offer assistance to your installation engineers to resolve technical queries as and when they arise.
Care must be taken in transportation of the boards to ensure that they remain supported to prevent damage to the substrate. 600mm widths are preferred to facilitate manual handling,
especially where thicker gauge lead is utilised. Pallets of boards should not be staked excessively or used as a working surface due to the risk of damage. Plywood and plasterboards should also be stored in dry locations.
The bricks are typically delivered, shrink-wrapped, in 1 tonne lots on EUR 1 pallets manufactured by Royston from a 99.985% Lead or 4% Antimonial unless the client requires otherwise. Each brick is visibly inspected to ensure geometrical fit and that the bricks are free from defects. The cast chemistry is validated in accordance with the requirements of the customer specification and certified as such.
Royston has confidence that its processes are robust, meaning any contract can be completed to specification within the required timescale, underpinned by the knowledge that we have produced countless products in a similar form factor over several decades. As a Group we continue to produce over 40,000 tonnes of lead products each year, if you require anything further, from a Risk Assessment or MSDS to Met-wash Hand Cleaner, please feel free to give us a call.
Environment, Health & Safety and Quality Assured
Royston Lead has been approved by:
ISOQAR to ISO:9001 for the manufacture and sale of lead products
ISOQAR to ISO14001 Environmental Management Systems – manufacture and sale of lead products and the production of milled lead sheet
ISOQAR for compliance with the requirements of BS OHSAS 18001 for the manufacture and sale of lead products and milled lead sheet to BS EN12588
Royston is part of the 2IM Group – International Industrial Metals Ltd. providing over 40,000 tonnes of Lead and Lead related products to industrial customers globally in sectors including Mining, Construction, Medical, Nuclear, Process, Offshore & Shipbuilding.