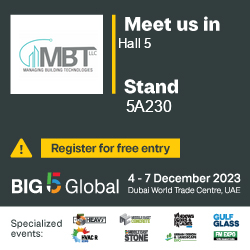 Exciting News! We're thrilled to announce our participation in this year's Big 5 Exhibition on 4th – 7th December 2023 at Dubai World Trade Centre, Dubai – UAE.
At Managing Building Technologies (MBT LLC), we're committed to staying at the forefront of innovation in the construction and interior design industry. That's why we're excited to be part of The Big 5, one of the most prestigious construction and infrastructure events in the world.
Join us as we showcase our latest products, technologies, and solutions designed to revolutionize the way we construct and design spaces. From cutting-edge building materials to state-of-the-art interior design concepts, we're paving the way for a new era in the construction and interior design industry.
Explore the synergy of aesthetics and functionality as we unveil innovations that redefine the art and science of creating spaces. This is your chance to immerse yourself in the future of construction and interior design, where creativity meets precision and imagination knows no bounds.
This event is a golden opportunity to connect with industry leaders, exchange ideas, and discover the latest trends in construction and infrastructure. We can't wait to meet you there!
Register here: https://t.ly/smVzJ